Each year the Idaho State Historic Preservation Office organizes and promotes statewide opportunities for the public to learn about Idaho archaeology, history and historic preservation. The Idaho Archaeology and Historic Preservation Month program is a celebration of everything dealing with Idaho's archaeology and history. Events, presentations and programs have been reaching all corners of the state for almost 30 years! Please join us in the celebration by attending one of our sponsored events.
MAY 2019: PAST MEETS PRESENT
Nearly every view of Idaho includes a reference to our remarkable past. These stories are told by archaeological sites, local landmarks, and historic districts. In this view from the rooftop of the Owyhee Hotel, the Boise of the 21st Century provides a backdrop to its counterpart of a hundred years earlier. Join Idahoans from around the state in a celebration of our extraordinary home where the Past Meets Present.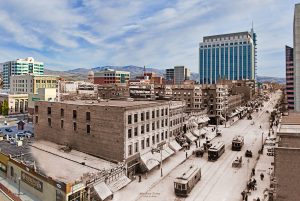 Sponsors:
Boise National Forest; Bureau of Land Management; Caribou-Targhee National Forest; Idaho Archaeological Society; Idaho Heritage Trust; Idaho Power Company; Idaho Transportation Department; Preservation Idaho
Events are planned throughout Idaho during May and cover topics related to Idaho's history, archaeology, architectural history, and historic preservation.
For a list of events, CLICK HERE.
AVAILABLE POSTERS