Each year the Idaho State Historic Preservation Office organizes and promotes statewide opportunities for the public to learn about Idaho archaeology, history and historic preservation. The Idaho Archaeology and Historic Preservation Month program is a celebration of everything dealing with Idaho's archaeology and history. Events, presentations and programs have been reaching all corners of the state for almost 30 years! Please join us in the celebration by attending one of our sponsored events.
The health and safety of our visitors, staff, and volunteers is of the highest priority. As such, in an effort to be proactive and help prevent the spread of the virus in our community, all public programming and events of the Idaho State Historical Society and the Idaho State Historic Preservation Office are currently canceled or postponed until further notice. This decision by state and agency leadership includes the 2020 recognition of Idaho Archaeology and Historic Preservation Month (IAHPM).
Due to school closures and the disruption of normal business, IAHPM posters will not be printed or distributed at this time. It is possible that a limited run of the poster may be printed in future months. In the meantime, please enjoy this information about the chosen theme, which highlights the contribution of women to Idaho's historic places.
MAY 2020: A WOMAN'S PLACE
Women have a profound and dynamic impact on the places where they live, work, and recreate. In Idaho, many historic sites and structures embody the empowering stories of women who have shaped the narrative of our state. Historic places reflect only a fraction of the innumerable ways women have influenced who we are as Idahoans, and represent limitless opportunities not yet realized.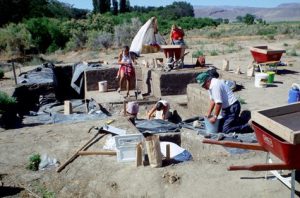 Sponsors:
Boise National Forest; Bureau of Land Management; Caribou-Targhee National Forest; Idaho Archaeological Society; Idaho Heritage Trust; Idaho Power Company; Idaho Transportation Department; Preservation Idaho
AVAILABLE POSTERS