Note: The Idaho State Historical Society provides contracted rental space for public and private events. The Idaho State Historical Society does not endorse and is not affiliated with any subsequent programming or events by a third-party rental client. All inquiries about rentals at and Idaho State Historical Society site should be directed to information@ishs.idaho.gov.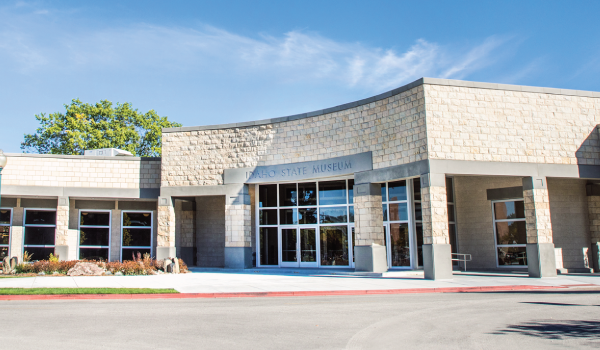 The Idaho State Museum has unique spaces for hosting private events, which provide an opportunity for guests to incorporate history into their special event. Now accepting bookings! Ask about non-profit and government rates.
Idaho Room & Gem State Gateway
Classrooms
Idaho Room & Gem State Gateway
Capacity
160 Seated Banquet Style (5′ Rounds/8 Chairs Each) 210 Seated Theater Style (Chairs Only)
84 Seated Classroom Style (With Rectangle Tables)
Rate
Monday-Wednesday | $125/hr. | $1,250 from 5pm-10pm
Thursday-Sunday | $125/hr. | $1,750 from 5pm-10pm
*$100 non-refundable reservation deposit
*$350 damage/cleaning deposit
Overview
The Idaho Room is a multi-purpose venue that provides 3,150 square feet of elegant setting for any type of event. The 1910 Stained Glass Dome, once displayed in Boise's Owyhee Hotel, illuminates to provide the room with a warming glow. Also featured in the space is the 1870 historic bar and 1878 Weber Grand Piano, fully restored and beautiful to hear.
Adjacent to the Idaho Room, The Gem State Gateway includes the historic facade of the Idaho State Museum, which provides a stunning backdrop to greet guests. This space, included with an afterhours rental of the Idaho Room, offers a perfect opportunity for small receptions, or as an extension to larger events.
The space includes your choice of round or rectangular tables and chairs, trash receptacles and liners, audio/visual capability, floor plan options, set up/take down time, a catering prep space, and podium and microphone.
Classrooms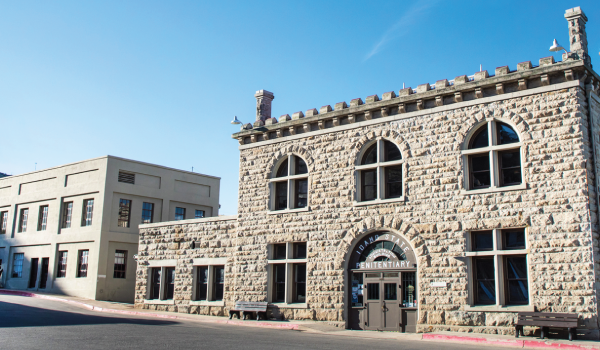 The Old Idaho Penitentiary is available to rent as a unique venue for corporations, non-profits and some private parties (limitations apply). Fundraisers and for-profit events are approved on a case by case basis and may require additional fees.
Please note: The Old Idaho Penitentiary does not accept private rentals during the month of October.
4 House, 5 House or Trusty Dorm
J. Curtis Earl Memorial Exhibit
Main Yard & Grounds
Shirt Factory
Women's Ward
4 House, 5 House or Trusty Dorm
Capacity
50-125
Rate
$300/hr. (2 hr. minimum)
*$100 non-refundable reservation deposit
*$250 (without food or drink)/$450 (with food/drink) refundable cleaning deposit
*Government and 501(c)3 discount is $200/hr.
Overview
These are building interiors (cell houses and other areas). Your reservation is limited to the buildings you reserve. Exhibits cannot be removed or altered. Power and lights are available, but are limited. Buildings are not heated or air conditioned. Rental is limited to this location and public restrooms.
Note: The Trusty Dorm is available for educational workshops and classes only – please contact us with details regarding your rental inquiry.
J. Curtis Earl Memorial Exhibit
Main Yard & Grounds
Shirt Factory
Women's Ward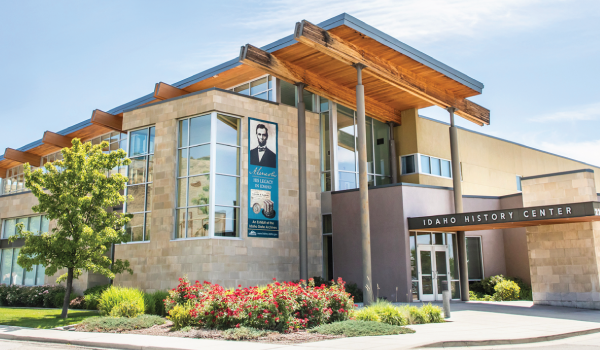 The Idaho History Center is available as a unique venue for your next gathering. Your guests will enjoy the gorgeous modern facility with views of the Idaho Botanical Gardens, the Old Idaho Penitentiary, and Table Rock.
Multipurpose Room
Multipurpose Room & Lobby
Multipurpose Room
Capacity
30
Rate
$75/hr. | $225 for the Day
*$100 refundable deposit required
Overview
A modern classroom that can accommodate up to 30 guests and can be set up in a number of styles to suit your needs. The classroom space is equipped with tables, chairs, and an overhead projector with audio. Non-profit and state rates are available upon request.
Multipurpose Room & Lobby