The Foundation for Idaho History is the fundraising engine that powers the Idaho State Historical Society, ensuring that Idaho's stories are uncovered, illuminated, and passed along to future generations.
The Foundation bridges the gap between the funding allocated by the state legislature and the resources required to create a variety of programs, exhibits, and events. We rely on community support via donations, membership, paid admissions, fundraising events, and more to generate roughly half of our Historical Society's annual budget for initiatives that touch every corner of our state. It would not be possible to safeguard the stories and artifacts of our past without time, energy, expertise, and resources from the Foundation's generous statewide members and donors.
Join us for this year's Wine, Eats, & Artifacts annual gala to support the new visitor experience at the Old Idaho Penitentiary.
The Foundation for Idaho History relies on donor contributions to support ambitious projects for ISHS including:
Conservation of the Idaho State Constitution and creation of a replica that is displayed statewide as part of a traveling exhibit
Conservation of the 1913 Idaho Suffragist Banner
Restoration and preservation of Guard Tower 1 at the Old Idaho Penitentiary
Restoration of the landscaping, and creation of an interpretative pathway at the U.S. Assay Office, the home of the State Historic Preservation Office
Support for the annual Ray Knight Field Trip Fund allowing students in rural Idaho and Title 1 schools free admission for field trips and assistance with transportation costs
Provide opportunities for thousands of Idaho students with National History Day in Idaho travel scholarships to participate in state and national competitions
Support for exhibitions and programs at the Old Idaho Penitentiary and Idaho State Museum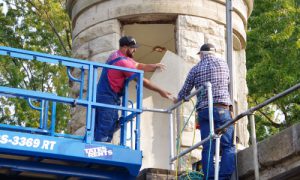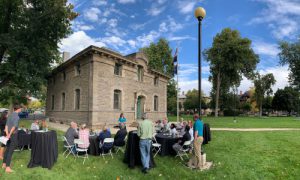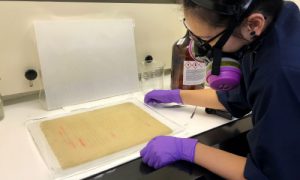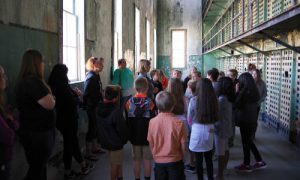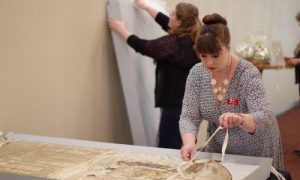 Community investment is critical to the Foundation for Idaho History's work and makes it possible to connect Idahoans to our shared threads from the past to inspire a better future for Idaho.
Idahoans can donate directly to the Foundation, become a member, or attend one of our fundraising events, including the annual Wine, Eats and Artifacts gala . You can make your mark on Idaho history by helping us empower the Idaho State Historical Society to continue sharing the stories that illustrate who we are, how we fit together, and why a shared appreciation of history is critical to providing context for the future.
All Idahoans can carve their chapter in our state's history by supporting the work that preserves and honors Idaho's heritage.
Foundation for Idaho History EIN#: 80-0031592
The U.S. Assay Office, located at 210 Main Street in Bose, is an important National Landmark in the western U.S. due to its significant role in mining in Idaho. Assay offices test the purity of precious metals, and the Boise Assay Office became the first major federal government building in the Idaho Territory.  
Thanks to generous support through the 2021 Wine, Eats and Artifacts fundraiser, the Foundation for Idaho History has raised $100,000 of the nearly $170,000 needed to preserve and restore the grounds surrounding the building. The project includes: 
Creating an interpretative pathway along the perimeter.

 

Adding 13 trees to the two-acre lot.

 

Restoring the 1920s era flowerbeds along the entrance.

 

Refurbishing the perimeter flowerbeds and plantings.

 
Please watch this video for more information about the history of the Assay Office, the current home of the State Historic Preservation Office (SHPO), and its importance to the community and state.   
If you are interested in donating financial resources, please visit our secure donation page and select "SHPO Landscape and Interpretive Pathway." If you, or someone you know, are interested in donating plants, please contact Carlyn Blake at carlyn.blake@ishs.idaho.gov. 
Ray Knight Field Trip Fund
Do you still remember the excitement you felt the morning of a school field trip? The thrill of getting out of the classroom and into the "real world"? Do you recall the anticipation of being able to experience the topic you were studying instead of merely reading about it in a book? We think all Idaho students should have the opportunity to share the same experience!  
 In fourth grade, Idaho youth begin to explore Idaho history in the classroom as part of their required curriculum. Thanks to the Ray Knight Field Trip Fund (RKFTF), students from rural and Title One schools across Idaho can experience Idaho State Historical Society sites, free of charge, in Boise, Hansen, and Franklin. Hands-on learning field trips to the Idaho State Museum, Old Idaho Penitentiary, Idaho State Archives, Rock Creek Station, and Franklin historic sites take students out of the textbook and into Idaho's past and present.  
 One teacher from Southeast Idaho summed up their students' excitement: "Students look forward to this field trip so much they are willing to meet at 5:30 am that day for the drive to Boise and not return home until 8 pm. It is an adventure of a lifetime, learning with their peers while seeing new sights and making connections to what they have learned in the classroom." 
 Created in 2015, the RKFTF, named for a beloved long-time volunteer at the Old Idaho Penitentiary, is funded entirely through private donations and membership contributions. During his decade of volunteering, Ray particularly loved sharing his passion for the site with school groups. Through this fund, his legacy of educating and entertaining the youth of Idaho lives on by providing Idaho schoolchildren with the gift of engaging in history.  
 Teachers from Idaho Falls to Weippe apply for financial assistance to offset the cost of admission and transportation. In addition, schools, parents, and teachers leverage their Ray Knight funds to take advantage of the unique learning experiences offered by the Boise Zoo, Discovery Center, M.K. Nature Center, and other cultural organizations in the Treasure Valley. We are grateful to our members and donors for helping create these immersive learning opportunities and life-long memories for students.  
Our long-term goal for the Ray Knight Field Trip Fund is to endow the fund so all field trips are free in perpetuity, with significant contributions to increasing transportation costs. This year, the Foundation for Idaho History will focus our Idaho Gives (May 2 – May 5) efforts on raising money for Ray Knight. Please follow ISHS on social media for more information on Idaho Gives and a closing, in-person event on May 5! 
Monday-Friday | 8 am-5 pm
Closed most state holidays.
2205 Old Penitentiary Road
Boise, ID 83712
Foundation for Idaho History Board Members