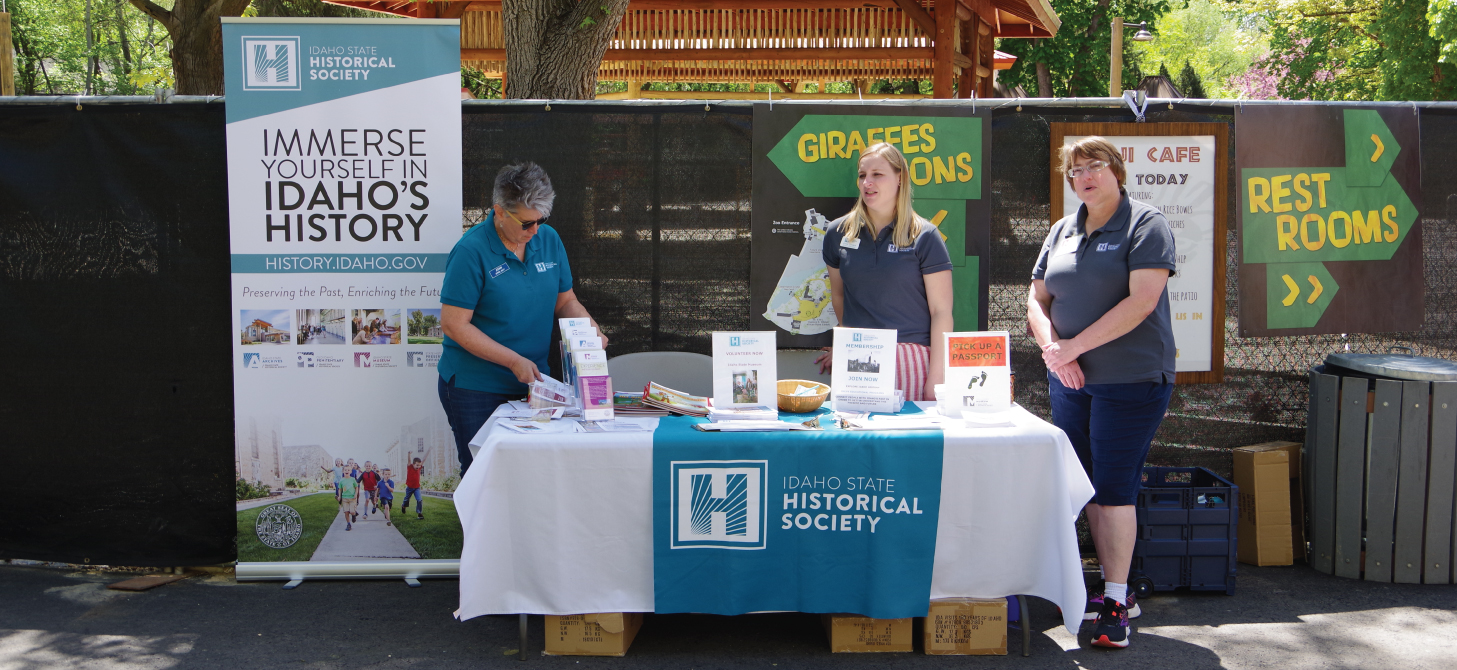 The Idaho State Historical Society (ISHS) is a trusted guide through the state's history and how it has shaped every aspect of our lives, our land, our communities, our government and our people. The ISHS volunteer program is committed to preserving and promoting Idaho's history. As a part of making history essential and accessible through dynamic and gratifying services that inspire, enrich and engage all Idahoans, ISHS volunteer program welcomes volunteers in a variety of roles, including activities that directly support paid employees, leadership positions and ISHS customers.
ISHS encourages the teamwork of employees and volunteers so that we can offer our consumers the best services possible. Volunteers contribute their skills, and knowledge of our community to provide personalized attention to clients and educate public about our agency and its mission. 
Please note: Based on current CDC guidance and consultation with ISHS staff, we strongly encourage that vaccinated and unvaccinated volunteers wear masks while volunteering at our sites. Masks are required for Museum volunteers who assist with educational programming and Old Idaho Penitentiary volunteers inside the Administration Building, Earl Exhibit, or Shirt Factory Building. We so appreciate your understanding and effort to keep our community safe.
A better understanding of Idaho history through access to educational materials, and close working relationships with professional staff
10% off site store purchases
Opportunities to interact with people and share the pride and history of Idaho
On-going training and learning opportunities related to Idaho History
Invitation to an annual volunteer appreciation event
Job references upon request
Subscription to the Mountain Light newsletter
At the Idaho State Museum
Idaho State Museum Ambassador – Stationed throughout the Museum during field trip program days, special events, and times of peak visitation. Represent the Museum at outreach in the community.
Idaho State Museum Educator – Deliver engaging programs for Preschool-12th grade audiences through discussion-based tours and object based-inquiry.
Idaho State Museum Discovery Guide – Engage family and intergenerational audiences through conversation, hands-on activities, and exploration in the Boomtown and History Lab Exhibits in the family galleries of the Museum.
At the Old Idaho Penitentiary
Old Idaho Penitentiary Exhibit Host – Answer visitor questions as they visit and interact with specific exhibits.
ISHS Volunteer Policy
Confidentiality Agreement  |  The volunteer agrees that s/he will not, at any time during or after his/her volunteer tenure with the ISHS disclose any confidential or proprietary information to any person, other than those persons properly authorized. Additionally, the volunteer agrees that s/he will not permit any person, other than those authorized, to make copies of any reports or documents that were either prepared by the volunteer during his/her tenure with ISHS or which came into his/her possession during his/her tenure with ISHS. The volunteer recognizes that the disclosure of such information may be harmful to ISHS, and the volunteer agrees that such disclosure is cause for immediate dismissal.
The volunteer agrees that s/he will, at all times, comply with all security guidelines that may be in effect for the protection of ISHS or any department of ISHS relating to the maintenance of files, documents and/or records.
Photo Release  |   ISHS has my permission to take and use my photograph on any type of Volunteer or ISHS related printed, electronic, and/or published materials without compensation to me.
ISHS Ethics  |   ISHS is a state agency and system of cultural and historic resources comprised of the Idaho State Museum, State Archives, State Records Center, State Historic Preservation Office, Old Idaho Penitentiary and Historic Sites Program.
ISHS is dedicated to upholding the highest ethical standards with the greatest attention to professionalism, promoting responsible government, and excellent customer focus. All ISHS staff, including volunteers and interns, must abide by these standards.
As a volunteer please note the following:
Volunteers should not work for personal gains other than the gratification and enrichment that result from participating in ISHS programming.
ISHS may accord benefits for volunteers, volunteers should not accept gifts, favors, loans, other dispensation, or things of value that accrue to them from other parties in connection with carrying out duties for ISHS.
Should the performance behavior of a volunteer in any fashion be deemed unacceptable, it is the prerogative of ISHS to ask that individual to relinquish their volunteer status and/or membership.
Volunteers are key to projects and special events, if a volunteer is unable to follow through on a commitment to volunteer, please call the person in charge at least 48 hours in advance (if possible) so that a substitute may be found. Please understand that if three shifts are missed without notice, that individual will be asked to relinquish their volunteer status.
Volunteers must hold matters of program function and administration confidential. Volunteers who have access to ISHS collections, research, and staff activities must respect the confidentiality of their positions, as well as the significance and integrity of the collections.
Volunteers treat all people with dignity and respect. Open to ages, races, sizes, faiths, abilities, gender expressions, sexual orientations, and economic and cultural backgrounds.