The Capitol Curation Program is the product of a partnership between the Idaho State Historical Society (ISHS) and Idaho Capitol Commission. The Capitol Curator preserves and promotes the historic character of Idaho's statehouse and manages a collection of over 1,000 artifacts and historic furnishings connected to the Idaho State Capitol. Through permanent and temporary exhibits within the capitol, the program provides context for this iconic monument and the place of government in the lives of Idahoans.
Make your visit to the Idaho State Capitol more meaningful with Idaho Landscapes: Temple of Light. This special edition of the Idaho State Historical Society's publication series guides you through the capitol's construction, history, and 21st century restoration. The booklet is available in the Idaho State Capitol Gift Shop.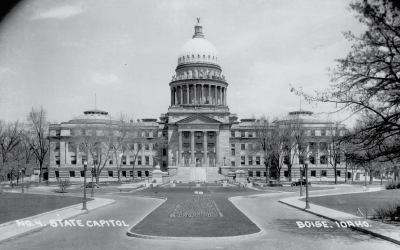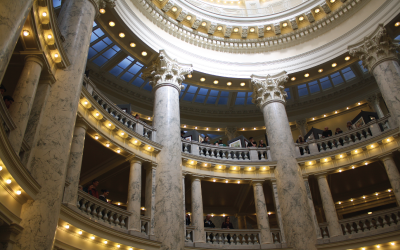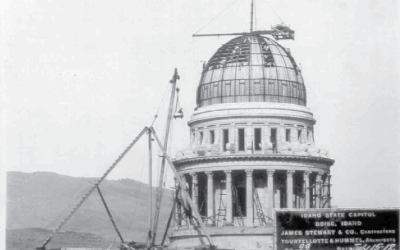 Artifacts of the Idaho State Capitol
On the Capitol Mall Grounds
Monday-Friday | 8 pm-5 pm
Saturday | 9 am-5 pm
700 W. Jefferson St.
Boise, ID 83702
Capitol Exhibits
Capitol Restoration Program
Capitol Photo Reproductions
Capitol Exhibits
Idaho State Capitol Permanent Exhibits
Governing Idaho: How People and Policy Shape Our State, located in the Garden Level Rotunda, is the Idaho State Capitol's signature permanent exhibit. In 2011, the project won the American Association of State and Local History Award of Merit. Learn how the Idaho State Capitol came to be. Explore the history of state government with interactive challenges. Become inspired to actively participate in leadership and governance of the Gem State. Brochures accompanying the exhibit can be found in the Idaho State Capitol Gift Shop.
Winged Victory of Samothrace was gifted to the state of Idaho by the people of France as part the Merci Boxcar Train following World War II. The statue is a magnificent replica of the Louvre's 2,000-year-old marble masterpiece. Discover more about Winged Victory's journey to Idaho and the Merci Boxcar Train at the 4th floor rotunda entrance to Statuary Hall.
The George Washington Equestrian Statue was presented to the Territory of Idaho by artist Charles Ostner in 1869. Learn about this Idaho pioneer and his iconic work at the 4th floor rotunda entrance to Statuary Hall.
The Lincoln Auditorium is a functional space within the capitol enriched by artifacts and ephemera connected to President Abraham Lincoln. Displays at the entrance and back of the auditorium were created in partnership with David Leroy to honor President Lincoln's legacy in the Gem State.
Portraits of Idaho Governors and Legislators have been reproduced and displayed throughout the capitol. Governors' portraits from 1890 to the present hang outside the 2nd floor entrance to the Governor's Office. Legislative composite photographs can be viewed throughout the Garden Level East and West Wings, as well as the 3rd and 4th floors of the capitol.
Capitol Restoration Program
Capitol Photo Reproductions