Un-Book Club with Jackie & Idaho State Museum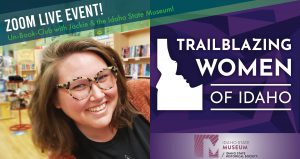 Join Jackie Updegraft from Rediscovered Books and Emily Chivers, Curator of Education at the Idaho State Museum, for a live Zoom conversation about some of Idaho's amazing women on April 25th from 5:30-6:30pm. This Unbook Club will introduce you to books related to themes and stories in the Trailblazing Women of Idaho exhibition at the Idaho State Museum.
After the Unbook Club, purchase one of the mentioned books from Rediscovered Books or the Museum's M Store and you will receive a free ticket link to an exclusive Exhibit Open House on May 13th from 6-8pm at the Museum. That evening will feature numerous pop-up talks from Curators and Museum Educators connecting the featured books to stories of these amazing women.
Admission to the Exhibit Open House will be $10 per person without the purchase of a featured book. ISHS Members will receive their M Store discount as well as free admission to the Exhibit Open House.
To purchase an Open House Ticket, visit https://store.history.idaho.gov/performance.aspx?pid=8279