The Marriage Decision: Latta v. Otter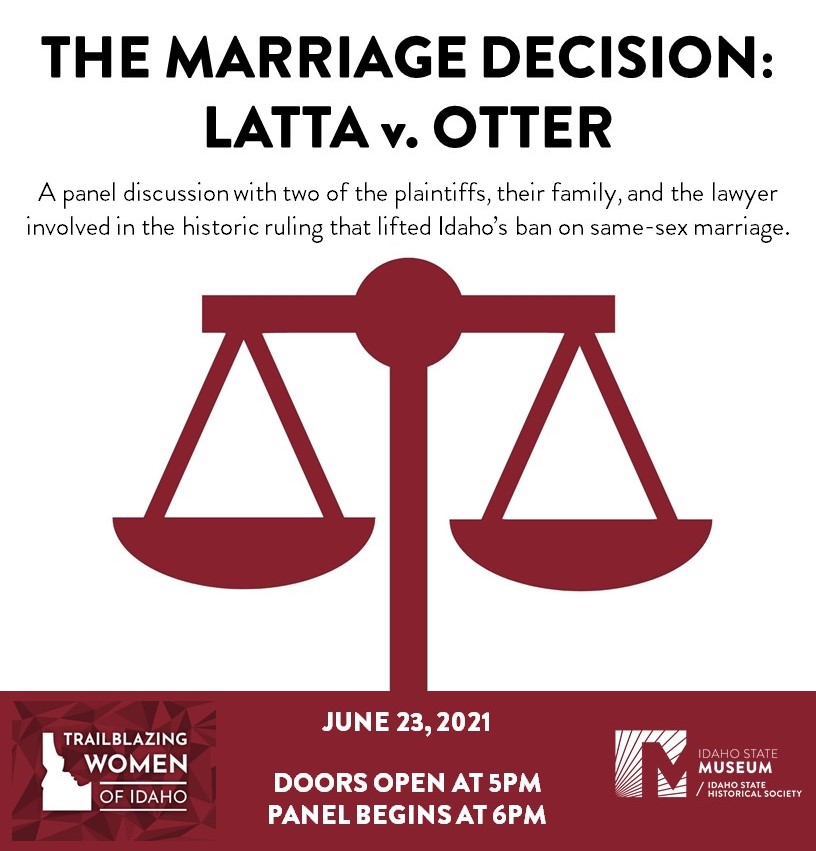 "We fight, we love, all those things just like everybody else, but we have that legitimacy, and that legal aspect that we just don't have to worry about." – Amber Beierle 
A panel discussion with two of the plaintiffs, their family, and the lawyer involved in the historic ruling that lifted Idaho's ban on same-sex marriage.  
Date: June 23, 2021 
Time: Doors open at 5PM, Panel discussion begins at 6PM 
Cost: Free  
Social inequalities do not singularly impact one type of person or group but intersect with the entire community. One of the more recent pushes for equality on a local and national level pertains to the right to marry. The revolutionary 2014 court case Latta v. Otter legalized marriage equality in the state of Idaho.
In our upcoming panel discussion, The Marriage Decision: Latta v. Otter, hear how the trailblazing actions taken by each of the panelists lead to transformational results in this national and local topic of human rights. Looking at the case from a variety of perspectives and experiences, the discussion will cover subjects such as bravery, love, family, tenacity, and more.
This panel is free and open to the public. Time permitting, audience members will have the opportunity to ask panelists questions. Cash bar and concessions available for purchase. Limited capacity- register for your tickets online.
Meet the Panel- 
Panelist, Amber Beierle, plaintiff 
Panelist, Stevi Campbell, family of a plaintiff 
Panelist, Rachael Beierle, plaintiff 
Panelist, Deborah Ferguson, lawyer