Nuestras Voces: Alice Mondragón Whitney – Mujer Latinoamericana pionera de Idaho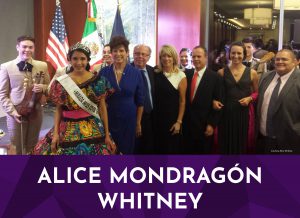 "Siento que todos los días necesitas tocar a alguien, necesitas elevarlo y hacer que esa persona se sienta mejor consigo mismo. Y si no lo has hecho, no has terminado tu día. "– Alice Mondragón Whitney
Alice Mondragón Whitney es una rompedora de barreas. En el comienzo de su carrera profesional, le dijeron a Whitney que no podía crear la primera empresa de aviación como mujer en el oeste del Mississippi. Cuando vendió su empresa en 1986, su lista de clientes incluía Forbes, John Deere, la Fuerza Aérea de EE. UU. y más. Fue entonces como Alice demostró que las mujeres latinoamericanas podían ser propietarias de negocios exitosos. Pero ella no se detuvo ahí. Más tarde se dedicó al sector inmobiliario y ascendió profesionalmente en el banco Zions. Además de su carrera profesional, Whitney también sirve a su comunidad como voluntaria. Ella es miembro de la junta directiva de una variedad de organizaciones, enseña en el Consulado de México y es mentora de niños y adultos al mismo tiempo. Whitney sigue siendo una promotora de cambios y defensora en la comunidad de hoy.
Conoce a Alice Mondragón Whitney durante este evento especial Nuestras Voces de 1 hora el 29 de abril a las 6 pm. Como maestra y mentora natural, Whitney compartirá sobre su pasado, cómo rompió barreras y ha sido una voz de cambio y sus esperanzas para el futuro durante esta discusión inspiradora con Ceci Salvador-Richardson (Representante de Servicios para el Visitantes, Idaho State Museum). Si desea obtener más información sobre Alice Mondragón Whitney y otras mujeres revolucionarias de Idaho, visite la exposición más reciente en el Idaho State Museum, Trailblazing Women of Idaho. 
Este evento virtual gratuito será presentado en español y es el quinto conversatorio de la nueva serie virtual Nuestras Voces destinado específicamente a involucrar a la comunidad de habla hispana de Idaho. Envíe sus preguntas por correo electrónico con anticipación a events@ishs.idaho.gov o envíelas en vivo durante el evento.
Antes del evento, escoge tu vino favorito de Bitner Vineyard para degustar mientras disfrutas del conversatorio desde la comodidad de tu casa. Tu compra de vino ayuda a apoyar el fondo de becas para estudiantes hispanos del College of Idaho. Obtén más información sobre el viñedo y su fondo de becas aquí:https://www.bitnervineyards.com/vineyards
El espacio tiene un límite de 100 personas.
————-
Nuestras Voces: Alice Mondragón Whitney: Trailblazing Latin American Woman of Idaho
"I feel like every day, you need to touch someone, you need to elevate them and make them feel better about themselves. And if you haven't, you aren't done for the day." – Alice Mondragón Whitney
Alice Mondragon Whitney is a barrier breaker. Near the beginning of her professional career, Whitney was told she could not create the first woman-owned aviation business west of the Mississippi. When she sold it in 1986, her client list included Forbes, John Deere, the U.S. Air Force and more. She proved then that Latin American women could be successful business owners. But she did not stop there. After, she went into real estate and rose professionally at Zions Bank. In addition to her professional career, Whitney also serves her community as a volunteer. She is on the board of directors for a variety of organizations, teaches at the Mexican Consulate, and is a mentor to children and adults alike. Whitney continues to be a change maker and advocate in the community today.
Meet Alice Mondragon Whitney during this special 1-hour Nuestras Voces event on April 29th at 6pm. As a natural teacher and mentor, Whitney will share about her past, how she broke barriers and has been a voice of change, and her hopes for the future during this inspirational discussion with Ceci Salvador-Richardson (Visitor Services Representative, Idaho State Museum). If you would like to learn more about Alice Mondragon Whitney and other revolutionary Idaho women, visit the newest exhibition at the Idaho State Museum, Trailblazing Women of Idaho.
This free, virtual event is presented in Spanish and is the fifth in the new series of virtual events intended to specifically engage Idaho's Spanish-speaking community.  Email your questions ahead of time to events@ishs.idaho.gov or submit them live during the event.
Before the event, pick up a bottle of Bitner Vineyard wine to enjoy as you get comfortable at home for this panel discussion followed by an audience Q&A. Your wine purchase helps support Bitner Vineyard's scholarship fund for Hispanic students at the College of Idaho. Learn more about the winery and their scholarship fund here: https://www.bitnervineyards.com/vineyards
Space is limited to the first 100 registrants.