Idaho Explorer Camp Kit: Road Trip Through Time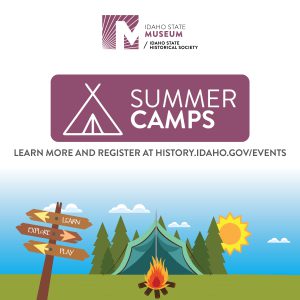 Available June-August
Can't come to an Idaho State Museum camp in-person? Take this camp kit with you as you travel around the state and beyond with family or friends!
Set off on a journey through time this summer! Purchase an Idaho Explorer Camp Kit to discover various parts of the state of Idaho and get a sneak peek into some of the iconic stories and significant events from our history.
The Explorer Camp Kit comes complete with Idaho-themed arts and crafts, science experiments, games, and more! Each kit includes an Explorer journal, activity instructions, and necessary activity materials.* Kits will be available for curbside pickup at the Idaho State Museum or they can be shipped to your home.
Join us the week of June 28 – July 2 for daily live online camp sessions from 10am-11am using Zoom. Virtual camp sessions are highly encouraged but not required for students to attend. Virtual camp registration is free with the purchase of a camp kit.
Option 1: Curbside Pickup – Explorer Kit $35
Option 2: We Ship to You- Explorer Kit $45
10% off the price of the camp kit for ISHS members