Girl From God's Country: The History of Women in Film, a Karen Day Documentary Screening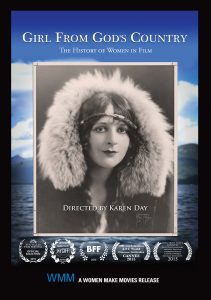 "A film about women in film, made by women in film from Idaho. This award-winning film won 7 BEST DOCUMENTARY awards, including the Golden Rose at the Cannes Independent Artist Film Festival."  Karen Day
Date: Thursday, July 8, 2021
Times: Doors open at 5PM, movie begins at 6PM
Cost: Tickets are $8 for non-members, FREE for members.
Writer. Director. Producer. Actor. Stunt woman. Animal advocate. Nell Shipman was a pioneer in many ways, but her legacy risked being forgotten. Not anymore. Join the Idaho State Museum in this showing of Karen Day's 2014 film, "Girl From God's Country," about Nell Shipman, the first female independent filmmaker and action-adventure heroine. Afterwards, hear from the filmmaker Karen Day as she shares her personal journey making the film and answers audience questions.
Enjoy general admission seating, a cash bar, and concessions for purchase as you watch the story of an unrepentant and unrelenting film pioneer in the Idaho Room under the glow of the historic stained-glass dome at the Idaho State Museum.
Admissions to the Museum, including the new exhibition, "Trailblazing Women of Idaho," is included with your ticket purchase. Nell Shipman is recognized in the exhibition as a Landmark Trailblazer. Her story is also told – including clips from her films – in the permanent galleries.
Tickets are non-transferable. Idaho State Historical Society event tickets are not eligible for refunds. We are following current CDC guidance related to masking and physical distancing.
Photo Credit: Girl From God's Country: The History of Women in Film poster, filmmaker Karen Day, 2014.
About the Film:
In 1921, Shipman refused a contract with Sam Goldfish (later Goldwyn) and moved to the Idaho wilderness with a zoo of 70 wild animals to write, direct, produce and act in movies portraying women as self-reliant heroines who rescued their male leads. Shipman pioneered the nude scene, performed her own stunts, and developed an uncanny rapport with her animal actors. The film reveals the forgotten legacy of Shipman and a generation of female silent film pioneers.  Two years of research revealed rare footage by these early pioneers, including minority filmmakers, Zora Neale Hurston, and Miriam Wong, the first Chinese American filmmaker in 1914. Geena Davis and the Director of Women in Film discuss how gender-inequities that Shipman and her counterparts faced perpetuate in today's film industry.  The all-female crew partnered with Columbia University and Boise State University to create a fitting tribute to these early film artists. A film about women in film, made by women in film from Idaho. This award-winning film won 7 BEST DOCUMENTARY awards, including the Golden Rose at the Cannes Independent Artist Film Festival. GIRL FROM GOD'S COUNTRY is Karen Day's 16th documentary. www.karenday.net  Day is the winner of the 2021 Governor's Award for the Arts in filmmaking.
For a look behind the scenes with the ALL-FEMALE crew, watch the short below:
FINDING NELL
https://vimeo.com/123855981
Watch the film trailer below: