Book Discussion: Polly Bemis; The Life and Times of a Chinese American Pioneer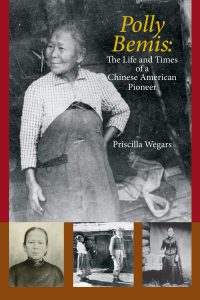 "Polly's life was genuinely fascinating, and it is time to both celebrate the known facts about her and allow the stereotypical, undocumented legends to die out." Dr. Priscilla Wegars
Join us for a presentation and Q&A with Dr. Wegars as she presents the true story of Polly Bemis.
Date: Wednesday, July 21, 2021
Times: Doors open at 5PM, presentation begins at 6PM
Cost: Free
It is time to "set the record straight," as Idaho author, historian, historical archaeologist, and artifact analyst Dr. Priscilla Wegars explains in her 2020 book, Polly Bemis; The Life and Times of a Chinese American Pioneer.
During this book discussion and presentation with the author, discover the real-life story of Polly Bemis, a Chinese American who lived in Idaho's backcountry for over 60 years. After audience members will have the opportunity to ask Dr. Wegars questions about the intriguing and complex story of Polly Bemis.
As you learn Polly Bemis' story, enjoy general admission seating, a cash bar, and concessions for purchase at the Idaho State Museum. This presentation and author Q&A is free and open to the public. Admissions to the new exhibition, "Trailblazing Women of Idaho," is included with your registration. Polly Bemis is featured in the exhibition as Made of Steel.
We are following current CDC guidance related to masking and physical distancing.
Photo credit: Polly Bemis; The Live and Times of a Chinese American Pioneer, by author Dr. Priscilla Wegars, ISBN 0870046403
About the Book:
Polly Bemis, the mistakenly named "Lalu Nathoy" of books and film, was forcibly brought to the United States, and to Idaho Territory, in 1872 when she was just eighteen. In 1894 she married a Euroamerican man, Charlie Bemis, and they moved to a mining claim on the remote Salmon River; Charlie died in 1922 and Polly died in 1933. Since her death, Polly Bemis's life has been greatly romanticized. Supposedly, she was a prostitute, "Hong King" was her Chinese owner, and Charlie Bemis "won her in a poker game." Not one of these statements is true. Polly's life was genuinely fascinating, and it is time to both celebrate the known facts about her and allow the stereotypical, undocumented legends to die out.
"Imagine a child—feet permanently deformed by a cultural fetish—raised in destitution; a teenager discarded by her parents, sold to a slaver, pressed into a trans-ocean voyage to a country and language entirely foreign, enduring a horseback journey for hundreds of miles through a wilderness to an isolated mining camp, consigned a new name, never to see or communicate with friends or family again, yet somehow still composing a vigorous life that endeared her to all: this is her story, definitively and meticulously captured by astute historian Dr. Wegars. More than that, it's the story of an era on a river where people sustained each other with shared work and food, words and kind considerations." — CORT CONLEY, author of River of No Return and Idaho for the Curious
About the Author:
Priscilla Wegars, Ph.D., of Moscow, is a historian, historical archaeologist, artifact analyst, editor, and proofreader. She founded the University of Idaho's Asian American Comparative Collection (AACC), a unique resource of artifacts, images, and documentary materials essential for understanding Asian American archaeological sites, economic contributions, and cultural history. Priscilla edited Hidden Heritage: Historical Archaeology of the Overseas Chinese (1993) and co-edited Chinese American Death Rituals: Respecting the Ancestors (2005). She wrote Imprisoned in Paradise: Japanese Internee Road Workers at the World War II Kooskia Internment Camp (2010) and As Rugged as the Terrain: CCC "Boys," Federal Convicts, and World War II Alien Internees Wrestle with a Mountain Wilderness (2013). She expanded her book for children, Polly Bemis: A Chinese American Pioneer (2003), into the biography of Polly Bemis' life for adults, Polly Bemis: The Life and Times of a Chinese American Pioneer.