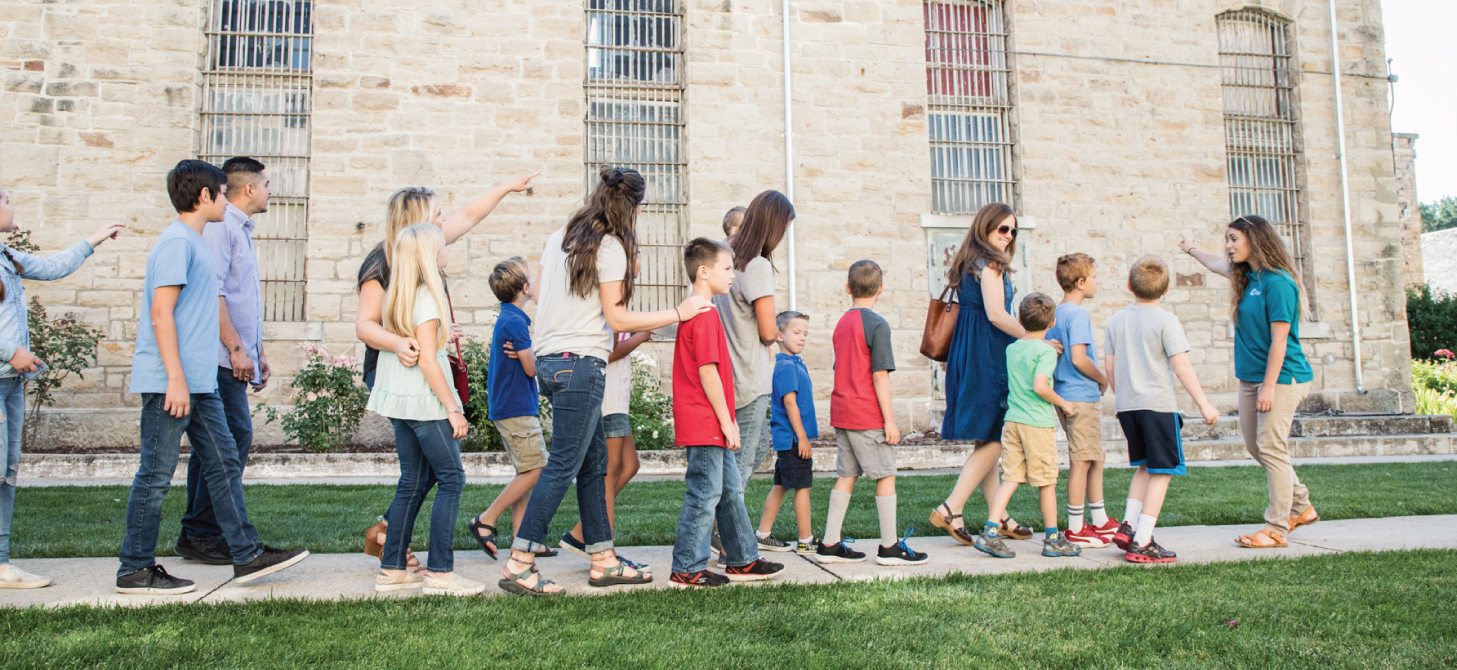 Volunteers Make it Happen at the Idaho State Historical Society!
Volunteers are important members of our ISHS family! More than 100 volunteers across the state support our mission of preserving and promoting Idaho history. Our ISHS Volunteer Blog will feature a diversity of content including volunteers in their own words, volunteer impact on the agency, photos, and more.
The Idaho State Historical Society is proud to highlight the accomplishments of volunteers, past and present. 
Ashley has volunteered with the Idaho State Museum since the Fall of 2019 and is an integral part of our volunteer family. Originally from Idaho Falls, Ashley moved to Boise in 2012 to obtain her undergraduate degree in multi-ethnic studies. She received her master's degree in 2019 in Public Administration and is currently a cash receipts technician at The J.R. Simplot Company. We are so thankful for her enthusiasm and hard work! 
What are your hobbies?
My hobbies include being outside and just walking. It does not matter if it is on the greenbelt or in the foothills. I also enjoy attending community events like concerts or sporting events.
Why do you volunteer with the Idaho State Historical Society?
When I graduated from my master's program, I had more free time so I decided to volunteer. I chose to volunteer with ISHS as I always loved history. My father is history/government high school teacher so it is family shared passion.
What is your favorite part of volunteering at the Idaho State Museum?
My favorite part of volunteering at the Idaho State Museum is talking to people who just moved to Idaho or individuals who are out of state. It is an opportunity to show Idaho is not just about potatoes, even though agriculture is an important part.
What are your hopes for the future of the Idaho State Historical Society?
My hope for the future of ISHS is to get more young adults involved with volunteering. It has been fun and allows me to be part of the community. Even if they do not volunteer, I would like to see them visit the sites.
Why do you think volunteering is important?
I think it is important for people to volunteer in the community because it acts upon their passion. They are allowed to share their passions with the community.
What has been a meaningful volunteer experience for you?
Volunteering within the Idaho State Museum is meaningful every time I discuss the aspects of Southern Idaho Exhibit. Growing up in Idaho Falls and now living in Boise, it is sharing parts of my home.
We had the opportunity to interview Brittany Benton who volunteered with ISHS in 2019. She is currently using her passion and experience with our agency in her work as a Data Collector/Graduate Student in History at University of Massachusetts – Boston. She credits her volunteer work with the Archives as solidifying her interest in pursuing a career path in history. In her spare time, she loves to be with her dog, Dodge, exploring the outdoors and absorbing as much knowledge as she can through documentaries, podcasts and research.
Why do you have an interest in Idaho history?
Idaho was the first true place I lived away from home. Before moving, I worked with local historical documents and found solace in that. I wanted the same feeling of connection where I was laying roots once I moved to Boise.
What are your career goals?
I'm still unsure, but I'm certain it will be a career where I can continue to further my education. I've seen there are doors that can be opened to career paths I could've never imagined, but that it isn't always easy to discover them as they're not part of society expectations. The historical society allowed me to immerse myself into Idaho culture and to better connect to where I was living.
In your opinion, what is the most fascinating part of Idaho's history?
I found most fascinating uncovering the Wild West past of Idaho. It's something that mostly is only read about or watched fictionally, but I was able to dive and learn from firsthand primary documents. Idaho has progressed so far yet the Wild West still has a hold on the present day. 
What were your duties when you volunteered in the Archives?
I primarily was doing cataloguing of archived materials for the historical society's online databases. The large majority of this was government related records. 
How did your volunteer position in the Archives contribute to your current educational/career goals?
Working for the Idaho State Historical Society continued my yearning for education and the world as it is in the past as well as how it connects to the present. Without the Historical Society, I may not have pursued history. It solidified my decision that this was the path I wanted to take. My main takeaway was finally having answers to what direction to take in history as well as that history can be pursued as a career.
Why should others volunteer for the Idaho State Historical Society?
Volunteering for ISHS is an opportunity to immerse yourself into your own very local culture and continuously push yourself for better understanding of not only how you live, but how others before you did. Volunteering here taught me that I could have my research and practicality all in one. 
Any other comments you would like to add?
I also had the opportunity to meet some incredibly amazing people with so much knowledge and insight into the field of history. It isn't every day I get to meet others with this passion. Being surrounded by likeminded people for even just an hour a week is comforting and inspiring. 
Thank you, Brittany, for all the work you have done for us and we wish you the best in your career!