The Trailblazing Women of Idaho exhibition will be on display at the Idaho State Museum until March 13, 2022. For more information on hours and admission pricing, visit the Idaho State Museum's web page.
Below are excerpts from features within the Trailblazing Women of Idaho exhibition.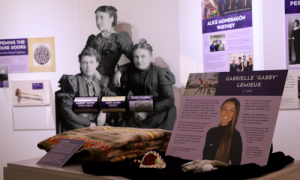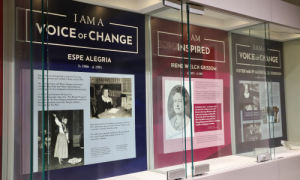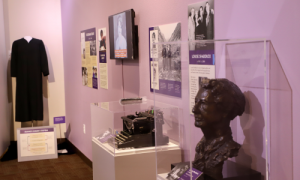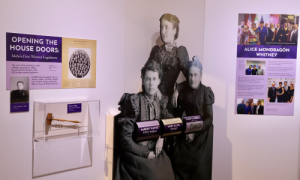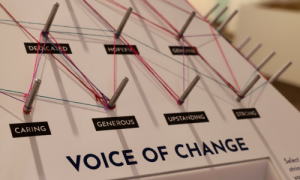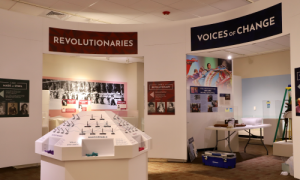 trail·​blaz·​er |  ˈtrāl-ˌblā-zər
A person that creates a path for others
Someone who makes, does, or sets forward on something new
Trailblazing Idaho women have defined our history. From political juggernauts to community builders, their impacts reach far beyond the Gem State.
By using their diverse backgrounds and skills these women forged new paths throughout our world. Their stories show us that anyone can be a trailblazer.
Discover the many ways Idaho women have shaped our past, present, and future. As you follow their journeys, ask yourself  what trail will you blaze? 
Revolutionary women were key in shaping local and national laws. From legal battles to social transformation, these women created a path to major change in American culture.
On October 19, 1971, Sally Reed asked the Supreme Court to do something it had never done – to overturn a law based on gender discrimination under the Equal Protection Clause of the Fourteenth Amendment to the U.S. Constitution.
Sally's case challenged an Idaho law that gave preference to men over women when selecting an executor to an estate. Sally was angry that "women could be stepped on like that." She appealed until her case reached the nation's highest court.
The unanimous ruling in Sally's favor revolutionized anti-discrimination protections for women in America's legal system. "The choice in this context," wrote Chief Justice Berger, "may not lawfully be mandated solely on the basis of sex."
Sally's victory reached far beyond her own life. Reed v. Reed laid the foundation for all future cases challenging laws discriminating against women, and men, based on gender stereotypes.
Professor and ACLU attorney, Ruth Bader Ginsberg, offered to help Sally. Ruth and her team wrote the court brief while Alan Derr delivered the oral arguments.
"Sally Reed lived to see the good that came from her brave decision to challenge an unjust law."
-Supreme Court Justice Ruth Bader Ginsberg
Photo courtesy of Judy Peavey Derr
Sally worked as a clerk, a babysitter, and a caregiver for disabled Boiseans to provide for her son, Skip.
On March 29, 1967, Richard "Skip" Reed died by suicide in his father's basement. Skip left a note, small personal items, and money his mother had saved for his college fund. These things amounted to less than $1,000.
Coat, circa 1970 (ISHS, 2020.013.0001)
Sally Reed wore this coat the only time she entered the U.S. Supreme Court. 
Barrier Breaking women set the stage for the next generation. From being "the first" to "breaking the glass ceiling," their courage to push past restrictions creates new opportunities for us all.
When Linda Copple Trout earned her law degree in 1977, only eighty-one women had been admitted to the Idaho State Bar. Working in a private law practice, Linda aspired to be a judge. The District Magistrate Commission appointed her a magistrate judge in 1983. She said child custody cases were "the biggest" because her decisions significantly impacted peoples' lives.
Elected 2nd District Court Judge, Linda soon learned that Governor Cecil Andrus wanted to appoint the first woman to the Idaho Supreme Court, so she applied with the Idaho Judicial Council, as one of 22 applicants.
Linda made history in 1992 when Andrus appointed her to the Supreme Court.
The other justices of the Supreme Court elected Linda to serve as Chief Justice of the Idaho Supreme Court from 1997 to 2004. She retired from the bench in 2007.
"They [girls] should not feel there are any barriers. They can be teachers, doctors, lawyers, journalists or homemakers [,] whatever they want to do they can do it."
-Linda Copple Trout
Photo courtesy of Linda Copple Trout
Inspired women use creativity to share their message. Their self-expression opens the door to conversation, emotion, and reminds us of the importance of tradition.
She was the most influential jazz musician most people have never heard. At the dawn of the 1930s, she became the first woman vocalist to sing with a "big band." Her name was Mildred Bailey.
Mildred grew up on the Coeur d'Alene Reservation. Her home was filled with the traditional songs of her mother's ancestors mixed with popular tunes of the 1910s. By combining the two, Mildred learned to sing the sounds "in between the notes."
From the speakeasies of Spokane, Mildred struck out for Los Angeles in the 1920s. Her effortless marriage of melody and phrasing captivated other emerging jazz and blues musicians of the time.
Mildred faded from popular memory after her death in 1951. In rediscovering her work, scholars are beginning to understand how Mildred's Coeur d'Alene roots were central to her identity. Her voice continues to inspire new generations of musicians.
Mildred influenced performers from Billie Holiday to Frank Sinatra. Without Mildred, Bing Crosby might have never made it big.
Bing and Mildred's brother Alton "Al" were friends and bandmates. Al and Bing followed Mildred's footsteps to seek stardom in LA.
Well established in the city's nightclub scene, Mildred set the boys up with their first job in 1926. She made sure they stayed fed and housed as they built their careers.
Photo: William P. Gottlieb, [Portrait of Mildred Bailey, Carnegie Hall(?), New York, N.Y., ca. Apr. 194], retrieved from the Library of Congress
In 1994, the U.S. Postal Service issued a series of stamps honoring legendary American singers. Beyond printing an incorrect birth-year, the stamp program described Mildred as "non-African American," obscuring her Coeur d'Alene roots.
In 2012, the Idaho State Legislature passed House Concurrent Resolution No. 49 honoring Mildred. Governor Butch Otter also signed a proclamation declaring April 30th, "Mildred Bailey Day."
These women raise their voices as advocates building a better world. Some highlight the plight of the disenfranchised. Others dedicate their lives to the preservation of our cultural heritage.
Dr. Mamie Oliver came to Idaho in 1972. She taught social work at Boise State University and was Idaho's first African American professor. An advocate for human rights, Mamie understood the power of history.
As Idaho celebrated its 100th year of statehood in 1990, Mamie saw a gap in the Gem State's history. While stories of white Idahoans were well known, few accounts told of the African American legacy in the Gem State.
Mamie began collecting the stories of Idaho's African American communities. She and her students examined historic records and gathered memories to understand the impact that African Americans had on the state.
"Many African American families and individuals contributed to making Idaho what it is today," Mamie wrote. "Their stories are an integral part of the story of the state of Idaho."
"If you really have deep commitments to human rights and human concerns, you cannot afford to be asleep."
-Dr. Mamie Oliver
"It is through the dedication of people like Dr. Oliver that we realize as a Na-tion our strengths and are empowered by what is integrally part of our Ameri-can history… we must be ever vigilant in pursuing the fundamental principles of equality and justice and in continu-ing the legacy that so many individuals have worked so hard to achieve."
– Senator Mike Crapo, February 1, 2007 in an address to the U.S. Senate honoring Black History Month.
Photo of Mamie Oliver: Courtesy of Airman 1st Class Melissa Lott, U.S. Air Force
Mamie worked to add St. Paul's Baptist Church to the National Register of Historic Places. Built in 1921, St. Paul's was the cultural and spiritual heart of Boise's African American community. It is now home to the Idaho Black History Museum.
Governor Evans appointed Mamie chair of the first Martin Luther King, Jr. Task Force in 1985. After five years of campaigning, Idaho became the forty-seventh state to adopt Martin Luther King Jr. Day as a state holiday.
Photo credit: Idaho State Historical Society
Survivors. Warriors. Women of steel are forged by their life experiences and life on our rugged lands. From a soldier's courage, to gaining freedom, these powerful women blazed their own path and empowered others to do the same.
Born in China, Polly Bemis was sold by her family and smuggled into America. Once there, an elderly Chinese man bought her and took her to the mining town of Warren, Idaho, in 1872.
Though Polly's journey began in slavery, this petite, powerful woman found freedom in the wilderness of central Idaho. She faced a hostile world but earned respect and love in Warren.
Polly met Charlie Bemis, a prospector-turned-business-owner, and years later they married. Together, they left town to build a new home along the Salmon River. Their ranch was full of laughter. From cougar cub to countess, she welcomed all travelers at her home, "Polly's Place."
Polly's life captivated Idaho and the whole nation. Years of adversity forged Polly's character. She met every challenge with compassion, humor, and strength.
Charlie Bemis, a saloon owner, was shot during a gambling dispute. The doctor did not expect him to survive. Polly wouldn't give up. She cleaned Charlie's wound with her crochet hook and tended to him until he recovered.
The Bemis home caught fire in 1922. Charlie died soon after. With the ranch lost, Polly returned to Warren but missed life on the river. Polly made a deal with friends to rebuild her home and in 1924, she returned to the wilderness.
Photo credit: 62-44-7, Idaho State Archives
Polly's home was added to the National Register of Historic Places in 1988. Today, the remote ranch pays tribute to Polly's rugged life on the River of No Return.
Polly and Charlie once took in and raised a cougar cub. The big cat even had its own plate nailed to the dinner table!
Shoes: ISHS, 1937.020.0000
Regardless of the obstacles, unstoppable women achieved their goals.
Some stepped up to a task. Others sought-out challenges that would define their lives. Their perseverance inspires us to go the distance.
Barbara spent months training as the backup for NASA's Teacher-in-Space, Christa McAuliffe. Tragedy struck in 1986 when the Space Shuttle Challenger exploded. McAuliffe and six others died instantly.
Through her grief, Barbara kept working for NASA, but returned to Idaho to teach. After years of training, NASA selected Barbara for a mission. However, NASA canceled the trip after seven died on the Space Shuttle Columbia in February 2003.
Video clip from Idaho Public Television's documentary Barbara Morgan: No Limits.
Courtesy of Idaho Public Television