Governor John Evans initially appointed the Governor's Lewis and Clark Trail Committee in 1983 to assist state agencies, the legislature, and Idaho communities in better preserving and promoting the portion of the Lewis and Clark National Historic Trail that lies in Idaho.
Governor Phil Batt expanded the size and scope of the committee in 1995 to oversee Lewis and Clark Bicentennial activities in Idaho. Following the bicentennial, Governors James Risch, Butch Otter, and Brad Little reauthorized the committee with the goals of preserving pristine Lewis and Clark trail properties, the development of interpretive centers, the education of thousands of Idaho students, and awarding millions of dollars to Idaho communities to help them tell and preserve the Lewis and Clark story in Idaho.
Governor Little's Executive Order continuing the committee also added the following responsibilities:
Coordinate activities and partner with federal, state, local, tribal, and private organizations to protect the trail and promote responsible use of the trail.
Advise the Office of the Governor, the Idaho State Legislature, the Idaho Congressional Delegation, Idaho commissions, bureaus, agencies, and committees regarding activities and policies that relate to the trail and the history of the Lewis and Clark Expedition.
Promote educational opportunities about the trail through financial support and technical assistance.
Sustain the current infrastructure and programs along the Lewis and Clark trail corridor in Idaho, many of which were initiated with the committee financial support during the Lewis and Clark bicentennial.
Affiliate Organizations
To learn more about trail projects in Idaho Lewis and Clark Trail Heritage Foundation, Idaho Chapter
To learn more about trail projects nationwide visit Lewis and Clark Trail Heritage Foundation
Grants
Lewis and Clark Grant Guidelines 2020
Maps
Lewis and Clark Map Relating to Points of Interest in Idaho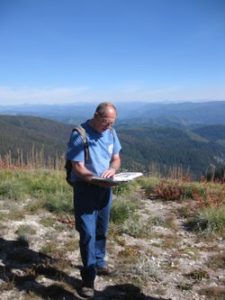 (Long-time Committee member, Jim Fazio, reads about the the Expedition from a vantage point on the Lolo Trail.)
The Governor's Committee partners with the ISHS to administer this grant. ISHS Trustee, Hope Benedict of Salmon, serves as the liaison between the ISHS and the committee. The award is funded by proceeds from the sale of the specialty Lewis and Clark license plate (commonly known as the Sacajawea license plate). By Idaho statue, ISHS maintains this license plate money in a dedicated fund for this use.
Additional information, grant guidelines and application are located on this page by selecting the link Lewis and Clark Grant Guidelines 2020. Application deadline is September 15, 2020.