Women in Community Leadership Panel Discussion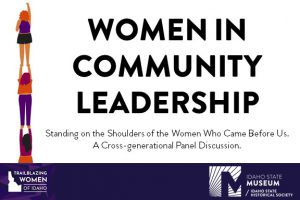 Standing on the shoulders of the women who came before us. A cross-generational panel discussion with women who are serving their communities.
Date: May 20, 2021
Time: Doors open at 5PM, Panel discussion begins at 6PM
Cost: Free
This powerful and provocative panel discussion will bring together four inspiring women leaders from across Idaho and across generations to share their perspectives and examine the impact that female leaders can have on their communities. Listen in as these women discuss their journeys into leadership as well as the impact leadership roles have had on them and other women around them.
Moderated by Jana Kemp, who is featured in the Idaho State Museum's new exhibition Trailblazing Women of Idaho, the panel will look at initiatives and opportunities to support women rising to top leadership roles and inspiring them to think about the value-based paradigm shifts they will affect once they get there. Conversations surround topics such as resilience, fears, strengths, frustrations, and more.
This panel is free and open to the public. Time permitting, audience members will have the opportunity to ask panelists questions. Cash bar and concessions available for purchase. Limited capacity- register for your tickets in advance. Masks are required for all guests over the age of 2.
Meet the Panel-
Moderator, Jana Kemp:
Jana Kemp started her own business, Meeting and Management Essentials, in 1993. She entered public service in 2004, being elected to the House of Representatives in District 16 in Idaho. In 2010 she ran as an independent candidate for Governor of Idaho. Nominated as a 2010 Trailblazer by the National Association of Women Business Owners in In Idaho, recognized as a community leader by the Pioneer Chapter of the Daughters of the American Revolution, and awarded numerous distinctions for her business, Kemp works to bring the power of productivity, morale, and profit to businesses.
Panelist, Jill Humble:
Jill Humble is the Executive Director of Nursing and Allied Health at Treasure Valley Community College, and before that she was Dean of Nursing at Carrington College. In addition to her successful career in healthcare, Humble also ran for Secretary of State in 2018 and Governor of Idaho in 2014. Humble is outspoken in her support of women as leaders. "We've (women) done so much with families and running businesses that we've proven ourselves and it's time that we're looked at as the leaders we can be and that we already are."
Panelist, Randy'L Teton:
Born and raised on the Fort Hall Reservation in Southeastern Idaho, Randy'L Teton is an active member in her community and serves on numerous tribal and historical boards. Teton travelled nationwide representing Sacajawea as the 'youngest, only-living model' on a coin at the national level. Currently, Teton serves as the Public Affairs Manager for the Shoshone-Bannock Tribe, building relationships and assisting tribal, state, and federal legislative issues. Teton received a South East Idaho Business Journal "Twenty under 40" award in 2016, served as the Tribes Ambassador as Miss Shoshone-Bannock in 2002-03, received the Idaho Hometown Hero Medal Award in 2017 that recognizes significant dedication and achievement to the Southeastern Idaho community and most recently highlighted as one of the top 100 women in Idaho for the Trailblazing Women of Idaho at the Idaho State Museum/Idaho State Historical Society.
Panelist, Alina Rahim:
In 2020 Alina Rahim received the Governor Cecil D. Andrus Volunteer of the Year Award. She is one of the youngest volunteers for the Idaho Foodbank, but that is not why she was recognized. In 2019 Rahim, along with a few other high school students, founded Youth Activism Society, with the goal of enticing local youth to become more active in politics and volunteerism. They strive to make their community a better place through initiatives like raising funds to support Idaho Foodbank's mission. Rahim was 15 years old when she became the executive director of Youth Activism Society. As she continues her impact on the community and her education, Rahim looks forward to creating change nationally by starting locally.