Nuestras Voces: ¡Que viva el Mariachi de Idaho!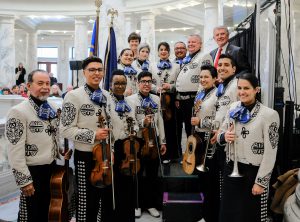 Mariachi es la música del pueblo, celebra sus alegrías, luchas y triunfos. Explora con nosotros la rica historia, significado y presencia del Mariachi en Idaho durante el próximo evento Nuestras Voces el 27 de mayo a las 6:00 PM. Este es un evento virtual gratuito presentado en español.
Descubre como la música Mariachi encontró su punto de partida en Idaho, como a avanzando hasta lo que es ahora y como sigue evolucionando en este conversatorio con Rudy Rodríguez, fundador del Mariachi Sol de Acapulco, John Cochrane, Cofundador del Mariachi Sol de Acapulco. Esta conversación será moderada por Maria Ortega, representante del servicio al visitante del Idaho State Museum. Aprende en esta entrevista el significado, sentimiento e importancia del Mariachi en nuestra comunidad.
Para participar con tus propias preguntas, puedes enviárnoslas previamente a events@ishs.idaho.gov o puedes participar directamente el dia del evento.
Antes del evento, recuerda que puedes apoyar al fondo de becas para estudiantes latinos de el College of Idaho, con la compra de vino de Bitner Vineyard. Lo puedes encontar en el Co-op y en Albertsons.
Este evento es gratuito y tiene un limite de 100 personas. Reserva tu espacio con anterioridad.
Foto Crédito:  Mariachi Sol de Acapulco, Governors Arts Awards, 2018-115, Courtesy of Rudy and Nina Rodriguez
—
Mariachi is the music of the people, it celebrates their joys, struggles, and triumphs. Explore the rich history, meaning, and presence of Mariachi in Idaho during the upcoming Nuestras Voces event on May 27th at 6:00 PM. This is a free virtual event presented in Spanish.
Discover how Mariachi found its foothold in Idaho, how it grew into what it is today, and the evolving path it has taken to get here with panelists Rudy Rodriguez, Founder of Mariachi Sol de Acapulco and John, Co-founder of Mariachi Sol de Acapulco. Moderated by Maria Ortega, Visitor Services Representative at the Idaho State Museum, uncover the meaning, emotion, and importance of Mariachi to the community.
To participate in the audience Q&A portion of the event, you can email your questions ahead of time to events@ishs.idaho.gov or submit them live during the event.
Before the event, pick up a bottle of Bitner Vineyard wine to enjoy as you get comfortable at home for this conversation. Your wine purchase helps support their scholarship fund for Hispanic students at the College of Idaho. Learn more about the winery and their scholarship fund here: https://www.bitnervineyards.com/vineyards You can purchase their wine at the Boise Co-Op or Albertsons.
Space is limited for this free 30-minute event to 100 registrants. Reserve your spot now!
Photo credit: Mariachi Sol de Acapulco, Governors Arts Awards, 2018-115, Courtesy of Rudy and Nina Rodriguez