History Happy Hour: Capitol of Light Turns 100 Watch Party and Panel Discussion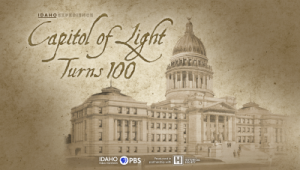 Capitol of Light Turns 100 celebrates a century of Idaho's statehouse as a symbol of democracy and freedom.  This program explores its history from design and construction through its most recent renovation and expansion.  With archived materials, photographs, re-enactments and interviews, we tell the story of this grand building and its original architects John E. Tourtellotte and Charles Hummel.
After getting a sneak preview of this new Idaho Experience episode, join the panel discussion with Outreach Historian at the State Historic Preservation Office, Dan Everhart, Executive Vice President at CSHQA, John Maulin, Principal Architect at Hummel Architects, Ed Daniels, co-creator of "Outdoor Idaho" and former Idaho Centennial history series producer/scriptwriter, Royce Williams, and moderator Alison Espindola, Events and Rentals Coordinator at the Idaho State Museum. Explore what it took to bring this program together, why it is important to tell the history of the people's house, the Capitol building, and how the community worked together to deliver a restoration that expanded the building while maintaining the character of this Idaho treasure.
You can participate in the conversation through the audience Q&A by emailing questions to events@ishs.idaho.gov or submitting them live during the event in the chat bar.
Register early for this free 1-hour virtual event; space is limited to the first 500 registrants. Reserve your space today. Watch party begins at 6PM Panel discussion begins at 6:30PM.