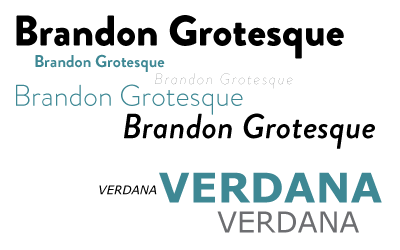 Primary & Secondary Fonts
Primary Font: Brandon Grotesque is a sans-serif font whose design was inspired by the sans-serifs of the '20s and '30s. Although it is a neutral and unobtrusive font, it has character and was chosen for its friendly, approachable feel. It is also well-suited for use in many applications, and comes in a variety of weights.
Secondary Font: Use the proper system fonts Verdana when the corporate fonts are not available. Refer to the typography section to help with formatting and style suggestions.
The Idaho State Historical Society's (ISHS) logo is the most visibly recognized element of the brand.
Consistent and proper us of the ISHS logo is imperative to building strong brand recognition. In addition to the logo, visual identity comprises a suite of supporting elements that are designed to establish and continually reinforce ISHS's story and meaning, beyond the singular brand mark. Colors, shapes, typography and imagery all work in harmony to support and enhance ISHS's brand.
The ISHS brand mark was created as part of a logo family system positioning the ISHS as the primary parent brand. A suite of sub-department logos have been designed to unify these brands under ISHS. While there are clear identities for each department, they are designed to work comprehensively as a brand family.
For clarity, use only one logo whenever possible.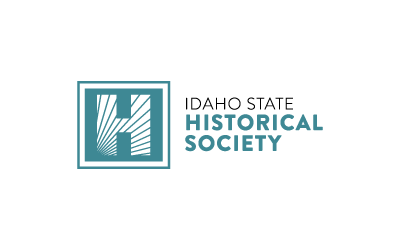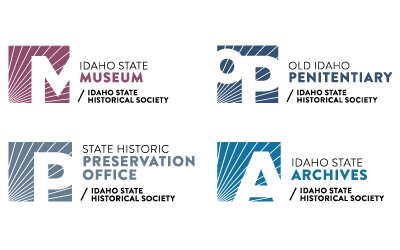 Use this logo when creating communications for general audiences, the organization as a whole, or that speak to multiple audiences within the organization.
These identities are designed to be used when communications are focused on department-specific audience communications.
Clear space is the area around the logo that should be free of any other logos, graphics, text, or borders. This ensures optimal presentation and recognition of the logo. Use the "O" from "Society" as a baseline to measure the amount of free space around the logo when resizing it.
Color is a fundamental part of the Idaho State Historical Society brand. The proper use of color enhances the communication of Idaho State Historical Society's identity. The Idaho State Historical Society parent brand communicates trust and dependability. The overall brand family color palette conveys energy, depth, optimism and a sense of being grounded. When possible, always try to use the correct color specifications when using four-color process reproduction, Pantone Matching System (PMS) color reproduction, or RGB (web, digital) display.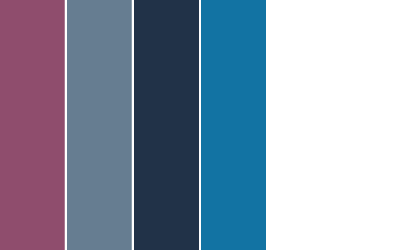 Parent Brand Primary Colors
Pantone
PMS 7474
CMYK
86/10/33/11
HEX#
#458A94
RGB
69/138/148
Pantone
Process BLK
CMYK
0/0/0/100
HEX#
#231F20
RGB
35/31/32