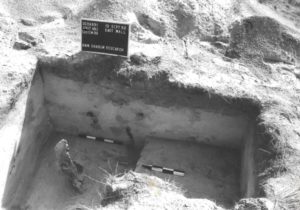 Persons or organizations proposing to undertake excavations in or on any prehistoric site, ruins, pictographs, petroglyphs, or any other ancient writing, or in or on any archaeological deposit or site within lands owned by the State of Idaho shall apply in writing to the State Archaeologist for an excavation permit. Permits shall be issued only to applicants who are qualified by experience or professional training to conduct such excavations in an approved scientific manner (Idaho Code § 67-4120).
Additional information available in ISHS Reference Series No. 138
The letter for application for a permit shall include:
A description or sketch plan of the location of the proposed excavation, sufficiently precise that it can be located upon a map of Idaho with reasonable accuracy. Section, range, and township should be included where possible.
A brief general description of the archaeological site, including an indication of its size.
Name of the individual to be in immediate charge of excavation, together with professional qualifications.
General extent of the excavation proposed, expected date of beginning, and anticipated time needed to complete work.
The proposed disposition of artifacts and specimens recovered.
Information concerning possible scholarly publications of the findings.