The Teacher Toolkit is designed with you, the National History Day teacher, in mind. We want to make this rewarding process accessible and fun for you and your students! The documents below are organized in order of usage; it is meant to serve as a timeline for planning your program.  These resources have been created and curated by some of the leading National History Day programs in the country. Teachers and students will find useful resources here.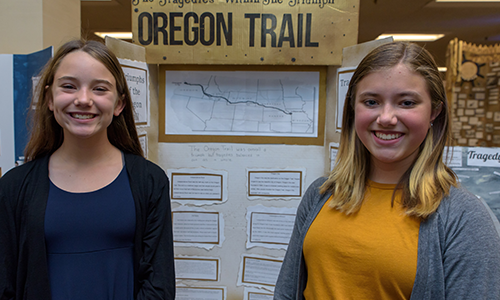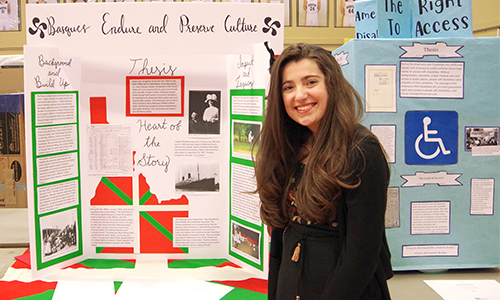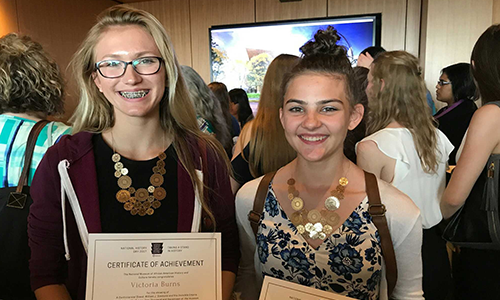 Introducing National History Day
Full Intro to NHD
A 10 min in-depth introduction to NHD from our friends at the NEH.
Student Reflections
NHD 2020 students share their thoughts about National History Day and reflect on why history matters.
Sample Pacing Guide – PDF
One suggestion for how to pace NHD this school year.
At www.NHD.org/teacher-resources you can find a guide that shows how NHD and the Common Core align.
Starting A History Day Project –PDF
Use this worksheet to help students organize the information they will need to begin.
National to Local Topic Selection –PDF
This tool guides students to connect national historical themes to local Idaho topics.
Absent Narratives –PDF
This tool can help students discover topics that have been left out of the dominant historical narrative to discover lesser known topics.
Preliminary Research for 3 Topics –PDF
Students can do initial research on 3 topics to determine which one has the most potential.
Narrowing an NHD Topic Funnel – PDF
This funnel from the NHD Guide to Student Research and Historical Argumentation and can help students select a topic based on their interest in history and narrow it down from there.
NHD Research Quick Tips
Videos from the NHD YouTube page can help students learn to mine Wikipedia for sources, find primary sources in secondary sources, use smart searching techniques, and more.
Research Learning Modules
Learn the research process using this series of self-paced lessons from Thinkport Education, a project sponsored by Maryland Public Television and the Library of Congress. Each lesson guides you step-by-step as you practice important research skills. You will learn to define and analyze sources, how to write a solid thesis statement, and ultimately understand how to create a research project.
Reading Like A Historian Lessons with the Stanford History Education Group
These lesson plans from SHEG engage students in historical inquiry. Each lesson revolves around a central historical question and features a set of primary documents designed for groups of students with a range of reading skills. You can match your curriculum to these lessons that cover many historical time periods. There are also videos to guide teachers on how to use these lessons in your classroom.
Initial Research Chart
This chart from NHD CA outlines the initial phase of the research process with what types of sources students should be looking for and questions to be considering.
Microsoft Word – NHD Research Steps Initial (1).docx (filesusr.com)
Advanced Research Chart – PDF
This chart from NHD CA outlines the advanced phase of the research process with what types of sources students should be looking for and questions to be considering.
Microsoft Word – NHD Research Steps Advanced (1).docx (filesusr.com)
Crafting Research Questions –PDF
Walk step by step through the process of writing a research question in several drafts. Sentence prompts can help students know how to ask their research questions.
Teaching Primary and Secondary Sources Lesson Plan
The George W. Bush Presidential Library has some great lesson plans and resources to help students learn how to identify and differentiate between primary and secondary sources.
Types of Primary Sources and Where to Find Them –PDF
This is a reference document for students to use to understand primary sources and get ideas for where to find them.
Online Research Resource Categorical – PDF
This categorial is a collection of online places for students to find research resources.
Primary Source Collections from the Idaho State Historical Society
The Educational Resources page from the Idaho State Historical Society has primary source collections that relate to the annual theme.
Evaluating Evidence & Analyzing Sources
EAR Analyzing Evidence Worksheet: PDF
A worksheet to evaluate sources based on evidence, analysis, and relevance. Adapted from the UC Berkeley History-Social Science Project. 
"I Wonder" Statements: PDF
Brainstorm ideas and facts encountered during research.  
OPVL: Is this secondary source credible?: PDF | PowerPoint 
Learn to assess a secondary source by reviewing its origin, purpose, value, and limitation. 
From Planning to Product: PDF
Learn to support and analyze an original claim with evidence. 
STOP Drawing the Conclusion: PDF
Connect your project's thesis and main ideas to the conclusion with this worksheet from NHD. 
Argumentation Plan Template: PDF
Organize your research to form an argument in support of your revised thesis. 
Historical Context Frames: PDF 
Students need to show how their topic fits within the historical context that surrounded it.  This note taking tool from NHD Utah can help students identify the historical context relevant to their project. 
Project Production & Presentation
Annotated Bibliography & Process Paper
Check out the University of Purdue Online Writing Lab for resources to help you write your annotated bibliography.
Annotation Guide: PDF
Learn to summarize, assess, and reflect on sources through annotations and get ideas on how to start your annotations. 
Process Paper Guide: PDF
Use this guide to start your process paper, including ideas to consider and sentence starters. 
NHD Student Project Examples