SIGN UP TO BE A HISTORY DAY JUDGE!
You can help Idaho students learn, grow, and succeed!
National History Day (NHD) is a year-long, inquiry led, research based academic program focused on historical research, interpretation and creative expression for 4th-12th grade students. National History Day teaches students critical thinking, writing, research skills and boosts student performance across all subjects. NHD prepares students for college, career, and citizenship. NHD inspires student to do more than they ever thought they could. The experience culminates in a series of competitions at the local and affiliate levels and an annual national competition in the nation's capital in June of each year.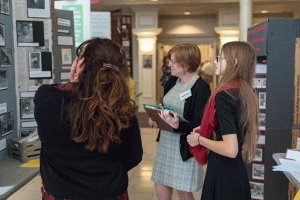 WHY JUDGE HISTORY DAY?
Judging is an interesting way to connect with students, support your community, and learn about history! By participating in NHD, students become writers, filmmakers, web designers, playwrights and artists as they create unique contemporary expressions of history. Students rely on constructive feedback from judges to help them improve their projects and continue to progress.
Come and be inspired by Idaho students!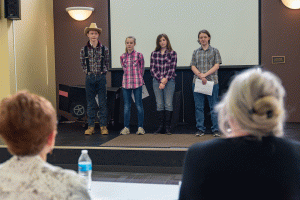 HOW DOES JUDGING WORK?
Judges sign up to volunteer at a specific event. Hundreds of judges are needed at our five regional contests in March and the state contest in April. Judges evaluate the work of young researchers studying topics related to an annual theme. They work in teams to review entries in a specific category, interview students, provide constructive feedback, and determine which students advance to the next level of competition.
The time commitment is 5-6 hours. Breakfast and lunch are provided.
Judges receive a minimal amount of training materials to read in advance of the contest and then attend a 45 min orientation the morning of the contest to teach them how to evaluate the entries.
WHAT ARE OTHERS SAYING ABOUT JUDGING?
"Best-run judging program in which I've ever participated!"
"I am always amazed by what I learn through this experience!"
"Always a fun and educational experience!"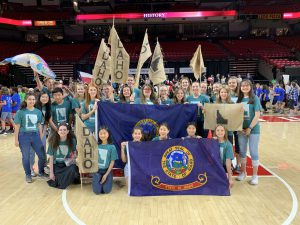 GET READY!
Judging Instructions & Training Materials
CONTEST DATES
| | | | | | | | | |
| --- | --- | --- | --- | --- | --- | --- | --- | --- |
|   | Northern | Southwest | West Ada | Treasure Valley/South Central | Eastern | State | National | |
| Contest | 3/14 | 3/14 | 2/29 | 3/7 | 3/2 |  4/11 |  6/14-18 | |
| Location | North Idaho STEM Charter Academy, Rathdrum | Idaho Arts Charter School, Nampa | Lowell Scott Middle School, Meridian | Riverstone International School, Boise | Rocky Mountain Middle School, Idaho Falls | College of Idaho | University of Maryland, College Park | |