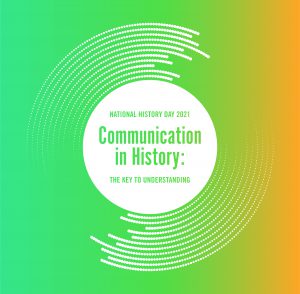 During the 2020-2021 academic year, National History Day (NHD) students will explore topics relating to the theme Communication in History: The Key to Understanding. This theme asks students to consider how people exchange information and interact with each other. Students have the chance to explore how the methods and modes of communication have changed over time, and how they have shaped the present. Major inventions like the telephone, the telegraph, and the television stand out in our minds as obvious examples of how communication has changed over time. Yet, communication is more than just these inventions. It is about how words, thoughts, or ideas are exchanged throughout history.
Every year, National History Day selects a different theme to help students focus their research. Students must make a connection between their topic and the annual theme and explain why their topic matters in history. The theme is deliberately broad so that students can select topics from local Idaho history to ancient history and anything in between! To make a connection to the theme, students must understand historical context. Understanding where their topic fits in time, what happened before, and what impacts their topic had will help them tell why their topic is significant and how it relates to the theme. 
Here are some resources to help students understand this year's theme!