NHD in Idaho 2019 State Contest
On April 6th, 2019 428 students from across our fair state, gathered at the College of Idaho for this culminating event after months of research, sweat, and tears!  These students came to compete, to earn special awards and scholarships, and to share their passion and knowledge about their topic.  Topics at this year's contest ranged from local topics, such as the New York Canal in Boise and the Teton Dam Disaster, to national topics like Pearl Harbor, Watergate, and the experiments performed on the Tuskegee Airmen. Click here for a complete list of the winners in each category.
Students shared their research with a panel of 3 judges, all volunteers from our community. The judges selected the 1st through 4th place finishers in each category.  Twenty special awards sponsored by community partners such as BSU, The Peregrine Fund, Idaho National Laboratories, Idaho Magazine, the Idaho Press Tribune, and many more were awarded to students with outstanding entries about special topics.  For example, the Opera Idaho Music History Award was given to Gabrielle Norris for her exhibit about the Woodstock generation.  Luke Barton won the Warhawk Museum Aviation in History award for his website about the aerial attacks on Pearl Harbor. Click here for a complete list of special award winners.
Scholarships were awarded to several students in the Senior Division.  Elizabeth Hunt from Compass Charter School won a $20,000 scholarship to the College of Idaho.  Salma Schwartzman from Riverstone International School won a $10,000 scholarship to the College of Idaho.  Joclynn Howell from Caldwell Senior High School won a $5,000 scholarship to the College of Idaho.  A $2,000 scholarship to any Idaho school was awarded to Hailey Nelson from Renaissance High School.
In the junior and senior division, the top two finishers in each category will now advance to the National Contest at the University of Maryland, outside of Washington DC. At the National Contest, these 60 students from Idaho will represent our state, compete in their category and for special awards and scholarships, and have access to amazing educational opportunities. An entry from Idaho will be selected to display their exhibit at the National Museum of American History at the Smithsonian during the contest.  Students will get free tickets to visit sites such as the United States Holocaust Memorial Museum, the Newseum, and special tours of the Library of Congress.
We at the Idaho State Historical Society are so proud of the benefits this program provides to students around our state.
We are grateful to be a part of the process of helping students fall in love with history and shaping informed citizens that will be assets to our community.  One parent said "NHD opens the eyes of students to the history of the past.  They learn skills that will help them in the future. LIFE CHANGING."  Another said, "I have seen my son focus as he dove into a subject and learn more on his own than in any class!" One student commented that "National History Day in Idaho has impacted my love for history. I hated history while I was growing up.  However, this taught me there is so much more to history that I originally though. I began to fall in love with history."
Idaho Teachers Selected for World War I Program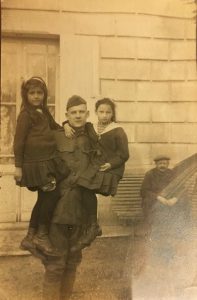 WASHINGTON, D.C. – Mr. David Pitsenbarger, of Madison Jr. High School in Rexburg, Mr. Daniel Neef, or Riverstone International School in Boise, and Mrs. Sarah Royter or Pierce Park Elementary in Boise have been selected for a National History Day® program titled Legacies of World War I. The program is a partnership between the U.S. World War I Centennial Commission and National History Day. They will participate in webinars and discussions while learning about World War I with teachers from around the world. The 114 selected teachers receive free tuition, graduate credits, and
materials for the online program.
Each of the 57 National History Day affiliates could choose two teachers for this honor. "As part of the commemoration of the centennial of The Great War, National History Day is proud to partner with the U.S. World War I Centennial Commission to help teachers delve into the history of this global event," said National History Day Executive Director Dr. Cathy Gorn. "These teachers will learn about specific aspects of the war they can take back to the classroom to ensure this piece of global history is not forgotten." This program is part of an educational partnership with the WWI Commission, the Gilder Lehrman Institute of American History, National History Day, and the National World War I Museum and Memorial. This new educational partnership will educate both teachers and school students about World War I through a series of more than 100 teaching events nationwide. More Information about the U.S. World War I Centennial Commission can be found here: www.ww1cc.org.
Normandy Institute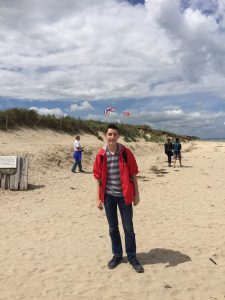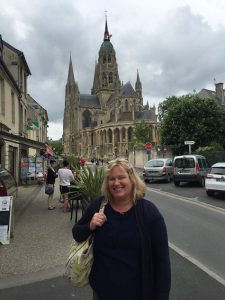 Renaissance High School teacher Janelle Gilson, and her student, Josh White, were one of fifteen teacher-student teams across the country selected to participate in the 2016 NHD Normandy: Sacrifice for Freedom Albert H. Small Student and Teacher Institute. Janelle and Josh spent the school year researching the story of Silent Hero Ray O. Coffey, a combat engineer from Idaho, who gave his life in World War II shortly after the D-Day landings in Normandy. In June, they traveled to Washington D.C. to finish their research, and then journeyed to Normandy, France with the other teacher-student teams to visit the D-Day beaches, museums and historic sites. Their final stop was the Normandy American Cemetery, where Josh delivered a heartfelt eulogy next to Combat Engineer Coffey's grave.