Newsworthy Events
Idaho Teachers Selected for World War I Program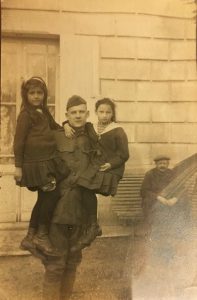 WASHINGTON, D.C. – Mr. David Pitsenbarger, of Madison Jr. High School in Rexburg, Mr. Daniel Neef, or Riverstone International School in Boise, and Mrs. Sarah Royter or Pierce Park Elementary in Boise have been selected for a National History Day® program titled Legacies of World War I. The program is a partnership between the U.S. World War I Centennial Commission and National History Day. They will participate in webinars and discussions while learning about World War I with teachers from around the world. The 114 selected teachers receive free tuition, graduate credits, and
materials for the online program.
Each of the 57 National History Day affiliates could choose two teachers for this honor. "As part of the commemoration of the centennial of The Great War, National History Day is proud to partner with the U.S. World War I Centennial Commission to help teachers delve into the history of this global event," said National History Day Executive Director Dr. Cathy Gorn. "These teachers will learn about specific aspects of the war they can take back to the classroom to ensure this piece of global history is not forgotten." This program is part of an educational partnership with the WWI Commission, the Gilder Lehrman Institute of American History, National History Day, and the National World War I Museum and Memorial. This new educational partnership will educate both teachers and school students about World War I through a series of more than 100 teaching events nationwide. More Information about the U.S. World War I Centennial Commission can be found here: www.ww1cc.org.
2018 National Contest Results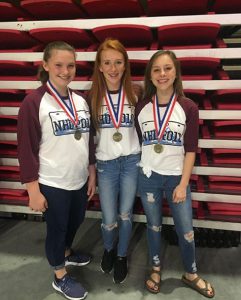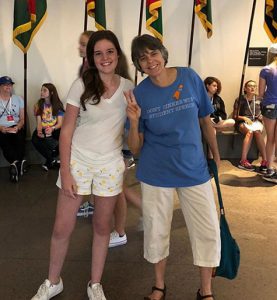 Congratulations to our top Idaho finishers from the National Contest! Abigail Carper and Samantha Kidder from Renaissance  High School finished in 4th place for their exhibit about Chiune Sugihara. Elizabeth Hunt from Compass Charter School finished in 7th place for her exhibit about Tinker v. Des Moines. Hannah Little from Victory Middle School was the top ranked student in the junior division for her documentary about the Iranian Hostage Crisis. Madison and Kalie Sommer from Renaissance High School won the Equality in History Prize for their exhibit about Eleanor Roosevelt and the Universal Declaration of Human Rights! So proud of all of our Idaho students!
54 Idaho Students Compete at National Contest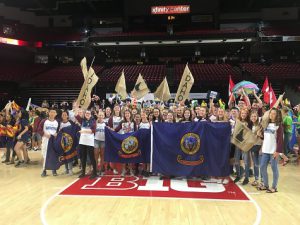 Boise, ID – Students across Idaho are traveling to Washington DC next week as the National History Day in Idaho delegation to compete at the NHD National Contest June 11-14th at the University of Maryland. Over 450 students and teachers from communities across the state gathered at the College of Idaho in Caldwell in April, and the top 54 students at that contest earned a spot at the national competition.
These students have been working for months and many have spent over 80 hours researching a historical topic and creating a website, documentary, exhibit, paper or performance to showcase their research. Students attending the national contest are competing with topics as diverse as the Partition of Palestine, Cecil D. Andrus fight for Idaho's environment, and the WASPs of World War II.
Tim Hebdon, a 7th grader from South Middle School in Nampa was selected to display his exhibit about the Bear River Massacre of 1863 at the Smithsonian U.S. History Museum in Washington DC. He and his teacher, Daniel Neef, will be able to share this piece of Idaho history with museum staff, curators, and the thousands of tourists who visit the museum during the summer.
Tori Simon, a 9th grader from Renaissance High created a documentary about the 54th Massachusetts Regiment that was nominated to be shown at a showcase at the National Museum of African American History and Culture.
Mariah Wilson, a 7th grader from Madison Junior High in Rexburg, ID was awarded an opportunity through the National Endowment for the Humanities to meet Rep. Mike Simpson at the U.S. Capitol. She will be joined by the rest of the Idaho delegation at a meeting with Rep. Mike Simpson where he will address the students and congratulate them on their achievements.
Because of generous grants from the Nagal Foundation, Wells Fargo, the Juetten Family, and other generous donors the Idaho State Historical Society was able to provide $500 scholarships to 24 of the students to help pay for their trip. Many of the students have applied for grants, taken on side jobs, and worked at school fundraisers to help pay for this opportunity.
Normandy Institute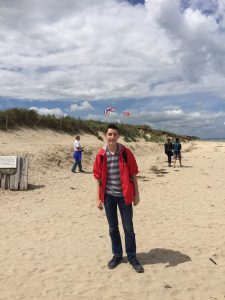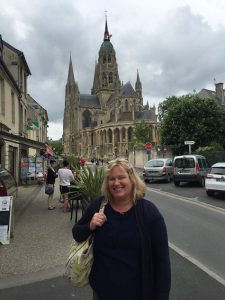 Renaissance High School teacher Janelle Gilson, and her student, Josh White, were one of fifteen teacher-student teams across the country selected to participate in the 2016 NHD Normandy: Sacrifice for Freedom Albert H. Small Student and Teacher Institute. Janelle and Josh spent the school year researching the story of Silent Hero Ray O. Coffey, a combat engineer from Idaho, who gave his life in World War II shortly after the D-Day landings in Normandy. In June, they traveled to Washington D.C. to finish their research, and then journeyed to Normandy, France with the other teacher-student teams to visit the D-Day beaches, museums and historic sites. Their final stop was the Normandy American Cemetery, where Josh delivered a heartfelt eulogy next to Combat Engineer Coffey's grave.